Up Monaghan!
Yesterday was a good day. Yesterday, I went up to Casement Park in Belfast to see Monaghan take on Derry in the Ulster Championship Semi-final. Having watched the minors getting roundly (and deservedly) trounced, and no Paul Finlay in the starting lineup it was a bit worrying at the start. However, I have to say that Monaghan played some nice football and fully deserved the win.
The refereeing was absolutely shocking though. Fair enough, there was some fisticuffs going on at times, but some of his decisions were just plain wrong. Twice, Monaghan players were punched deliberately, once in front of the referee himself. The result? Two yellow cards when both those Derry players should have been sent walking. Other times soft tackles were rewarded with yellow cards as well, while others (including the ref having to pull two players apart) got nothing.
Highlights of the match though have to be Monaghan's tackling and fielding of the ball. I was also pretty proud of the way they responded to Derry's fluky and undeserved goal. Coming that late in the match, and putting Derry to within a point could have been a match turning event, but they kept their heads and put over two points to keep Derry at bay. Next stop: Clones and the Ulster final against Tyrone. Bring it!
Today, however is not such a good day. My throat hurts, today. A lot.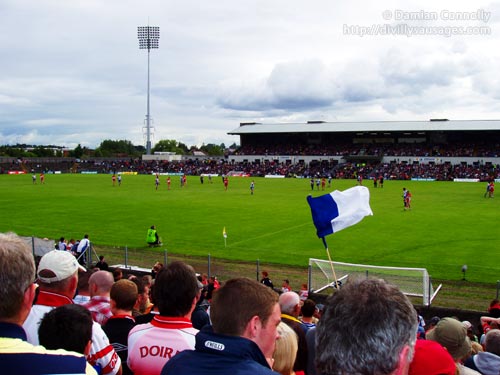 Halfway through the match I remembered I'd brought a camera. Took this when I wasn't otherwise occupied with my big ass flag.

Monaghan, just after winning.

The final score. In case it's not immediately obvious, it's Derry 1-09, Monaghan 0-14.