Bondage
Looking forward to Quantum of Solace? I am. Casino Royale was my favourite Bond film to date - it really showed a darker, gritter and more dangerous side to Bond, which was a welcome change. When he does something, it bloody well get done. And stays done if whatever's left knows what's good for it.
On the Quantum of Solace website (all snazzy in Flash, because you're not cool unless you've a Flash website), you can play an accompanying Flash strategy game. With all the actions boiled down to run or shoot there's literally 2 strategies you can take. Not quite enough to usurp my current favourite game, but worth wasting a few minutes on.
My few interactions on the site have resulted in one opponent running away when we met, one running away before the game started, and the other god knows where as I got my hostage out. Which only leads me to believe that I'm a damn good agent. Hoo-ra!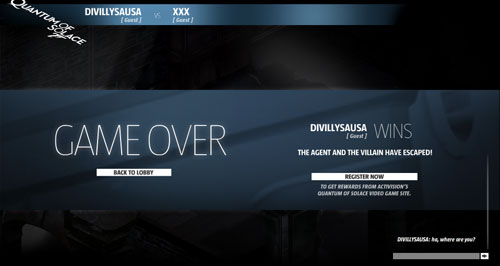 I'll zombie you
Ever play one of those chose-your-own-adventure books where all the instructions were like "You see a buxom young maiden. To chance your arm go to 388...", and you'd always keep one finger on your last page so that when you died you could cheat and pretend it never happened? I had loads of those books because they were awesome (except where you got caught in a Bermuda Triangle-esque circle of pages...or got sent to 14).
Now you can have the same experience in The Outbreak, a choose-your-own-adventure zombie movie. Play some random guy and choose whether people live or die. You end up dying with disturbing frequency, but the chapter selection is quite nice. Also, the satisfaction of leaving that whiny bint behind is...satisfying.
What would be fun would be if someone did this with something like Lord of the Rings...